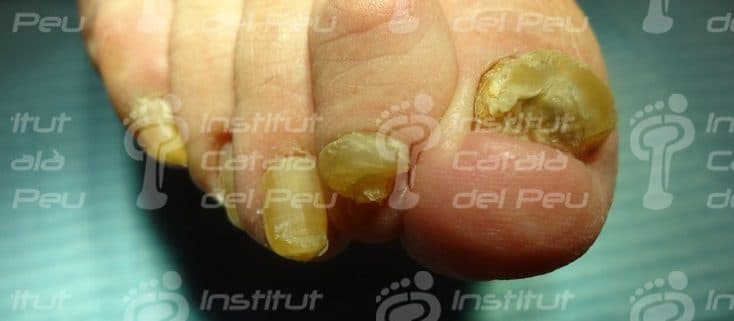 THE ONYCHOGRYPHOSIS OR THE INCREASE OF THE NAILS' THICKNESS.
The onychogryphosis is a considerable increase of the thicknes of the ungular lamina and it has the appearance of a grapnel with different shapes or directions. It is a common pathology in seniors due to peripheral vascular traumatisms or arthrosis although it can also be shown in those people who practice some sport or either affected by psoriasis or scleroderma. In case of psoriasis and scleroderma, the increase of the ungular thickness is more moderate and it affects to hands and feet. People who practice sport usually have subungular hematomas which can alter the matrix causing ungular deformities.
The growth of an onychogryphotic nail is gradual and due to its thickness provokes the patient a difficulty to cut himself the nails with conventional tools. This kind of nails show transverse furrows as a consequence of the intermittent growth of the nail as well as a very tough texture. The onychogryphosis has a bigger impact in the great toe. The causes of the onychogryphosis are as a result of internal and external agents although the onychogryphosis appears late to the cause. The traumatisms over the ungular matrix, like for example the use of inappropriate shoes, stamps, loss of nails, drops of heavy objects, as well as the lack of the blood flow in the matrix can cause irreversible injuries. The alteration of the ungular matrix generates an increase of ungular cells, saturating the ungular lamina and therefore, hindering a correct ungular renewal.
The patients affected by onychogryphosis have some trouble when they wear some shoes because of the thickness of the nail. The nail can hinder to put oneself the shoes and can cause pain by compression.
The compression which the shoes exert over the onychogryphotic nail can cause the existence of subungular callosities. In many cases, this kind of nails have a connection with bacterial infections and therefore it should be advisable the execution of an ungular culture.
The onychogryphosis has not a definitive treatment. It should be advisable a periodic control to the podiatrist in order to cut and reduce the ungular thickness (particularly diabetic patients or those who have circulatory complications). The podiatrist will give him a bias of the pieces of advices either because of the existence of anomalous colors on the nail, subungular hematomas or upsets.
In serious cases, a good solution  would be a surgery treatment in order to curette the ungular matrix once and for all.