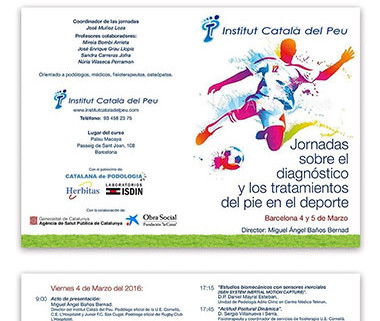 The Institut Català del Peu organizes the "Conference about the diagnosis and the treatments of the foot in sport" in Barcelona
Next March 4th and 5th , among the courses of initiation provided by the Institut Català del Peu are seminars concerning the foot and sport. We will rely on professionals of high prestige and always from a multidisciplinary point of view.
We hope to come to our visit in this interesting event.
A hug.
Miquel Àngel Baños Bernad
Manager of the Institut Català del Peu.
Institut Català del Peu
Phone number: 93 458 23 75
Place of the course:
Palau Macaya
Passeig de Sant Joan, 108
Barcelona
Sponsorized by Catalana of Podiatry
Conference about the  diagnosis and the treatments of the foot in sport.
Barcelona March 4th and 5th .
Manager: Miguel Ángel Baños Bernad.
PROGRAM
Friday March 4th 2016.
9:00   Presentation
Miguel Ángel Baños Bernad.
Manager of the Institut Català del Peu. Official podiatrist of U.E. Cornellà, C.E. L'Hospitalet and Junior F.C. San Cugat. Official podiatrist of L'Hospitalet rugby Club.
9:15   "Apophysitis in the young football player".
Doctor Mindaugas Gudelis.
Sport Doctor of F.C. Barcelona and Arnau de Vilanova Hospital (Lleida).
10:15 "Myths, scientific evidences and practical applications of the barefoot".
Doctor Francesc Corbi Soler.
Teacher of biological and mechanical conditions of physical activity and sport. National Institut of physical education of Catalonia. Lleida University.
11:00-11:30 Break
11:30 "Race technique for running".
Doctor Ferran Espejo.
Manager of advanced unit of sport rehabilitation and running therapy center. Osteopath and physical therapist specializing in performance.
National trainer of athletics. Sport research and development in women athletic sport.
12:30 "Treatments for plantar fascitis through Up feet method".
Mrs. Maria Elena Preciado Granado.
General Manager and founder member of Prebec Health S.L.
13:00-16:00 Working lunch.
16:00 "Technological advances in sporting shoes".
Mrs. Silvia Álvarez.
Adidas Spain Group. Ex-champion world of Jui-jitsu.
"Boost technology, the running shoes revolution".
Mr. Oscar Castro Gómez.
Adidas Spain technical representative.
16:45 "Pold manual therapy in knees ligamentoplasty".
Mrs. Susana Calero Ramírez.
Advanced physical therapist of Pold method. Therapist of Pold Institute and Letamendi Polyclinic. Collaborator of the Catalan team of women's football.
17:15 "Biomechanical surveys with inertial sensors (Isen system inertial motion capture)".
D.P. Daniel Mayral Esteban.
Podiatry Unit Adrio Clínic in Teknon Medical Center.
17:45 "Dynamic postural attitude".
Mr. Sergio Villanueva i Serra.
Physical therapist and coordinator of physical therapy services U.E. Cornellà.
Professor of the faculty of health in Blanquerna. Ramón Llull University.
18:10 "Fields of performance of the sport psychologist. Prevention and recovery of sporting injuries".
Mrs. Laura Suárez Díaz.
Psychology graduate and sport psychology master.
18:30 "Instabilities of ankle".
Doctor José Antonio González Vargas.
Orthopedic surgery and traumatology of foot and ankle department. Manager of foot and ankle department of Parc Taulí Hospital, (Sabadell).
Saturday March 5th 2016.
10:00 "Prescription of physical exercise in older people".
Mr. Caleb Araguàs García.
Graduation in podiatry. Master in integrative physiology and doctorate in physical activity and sport.
10:30 "3D biomechanical analysis with 8 cameras of optical system".
Mr. Rafael Martín Abarca.
Applications engineer. Technical head of biomechanics department in advanced medical system SL. Vicon.
11:15-11:30 Break
11:30 "Tibial periostitis "Shin Splints" in the sportsman".
Mrs. Dolors Casals i Puig.
Sport Physical therapist and osteopath in Spyros Center. Professor in Garbí-Euses School of physical therapy. Girona University.
12:00 "Personal experience in marathons".
Mr. Arcadi Alibés Riera.
Sports Journalist in TV3 and 3/24 channel.
Marathon runner and author of the books: "Running for being happy", "The footsteps of heroes" and "100 reasons to run".
12:45 Closing ceremony and handing over of certificates in charge of the Doctor Virginia Novel Martí, Emeritus Professor of the University of Barcelona.