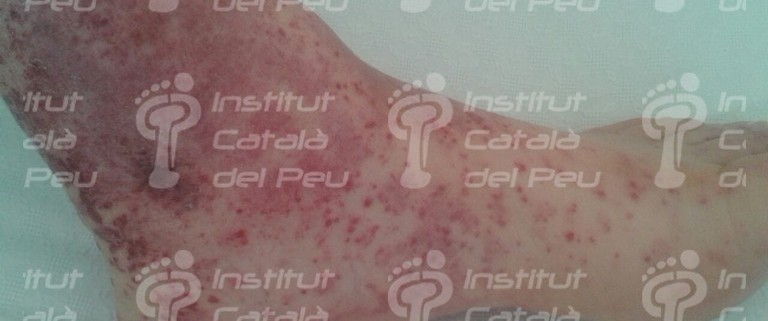 GENERAL IDEAS OF VASCULITIS.
The vasculitis gathers all diseases or syndromes less common with a common factor, the inflammation of any of the blood vessels decreasing partially or totally the vascular flow.
The cause is usually by inflammation caused by immunitary affectation or by direct invasion of vascular walls by pathogen agents (viral, mycotic or bacterial). The vasculitis can be joined to rheumatic  diseases like the systemic lupus erythematosus or the rheumatoid arthritis. It starts with fever, myalgias, arthralgias, general malaise, visceral infarct caused by ischemia, weight loss, cutaneous reddish maculae (purpura) and respiratory or renal insufficiency.
There are eleven kinds of vasculitis depending on the size and localization of the affected vessels, as well as of the histological sample through a biopsy.
They are classified according to:
THE SIZE OF THE AFFECTED VESSELS:
−     Vasculitis of big vessels (arteritis of giant cells, Takayasu's  arteritis, etc.).
−     Vasculitis of middle vessels (Kawasaki's disease, polyarteritis nodosa).
−     Vasculitis of small vessels (like the mixed cryoglobulinemia or Behçet's syndrome). These ones have its origin in two groups:
By ANCA (antineutrophilous cytoplasmic antibodies),

like Wegener's granulomatosis, Churg-Strauss's syndrome and the microscopic polyangitis.

By immunocomplex,

like the cutaneous leukocytoclastic vasculitis, Schönlein-Henoch's syndrome, Googpasture's syndrome, etc.
PRIMARY OR SECONDARY.
TAKING THE PATHOGENIC MECHANISMS AS A STARTING POINT.
It is diagnosed through a physical test, a biopsy, an angiogram and a blood analysis.
The chosen treatments are glucocorticoids (prednisone) or steroids. Its dose and duration will depend on the treatment's seriousness. Other immunosuppressant drugs can be used with less side effects than glucocorticoids such as cyclophosphamide, methotrexate, azathioprine, etc.
To sum up, in view of a patient with a possible diagnostic of cutaneous vasculitis, the first thing we have to do is to confirm the diagnostic through a clinical test, an analytic  survey , a biopsy or a radiologic study (ruling out the infectious reason). Once the diagnostic is confirmed, the pattern and the extent of the disease must be established and thus with these data we will be able to classify it and treat it like a primary syndrome (temporal arteritis, Wegener's granulomatosis, Chung-Strauss's syndrome) or to determine which factor sparked off. This can be an exogenous antigen factor or a subjacent disease that in any case we will treat more specifically.