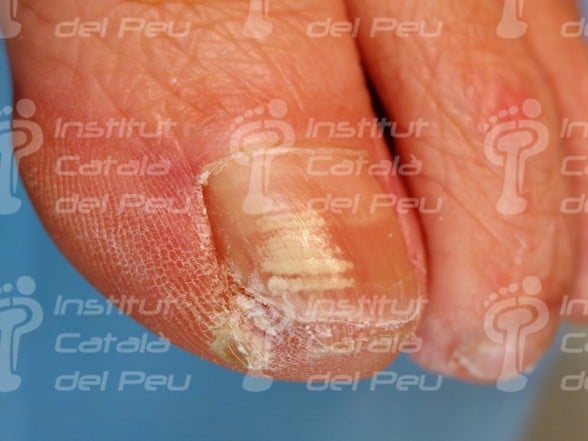 The leukonychia consists of the appearance of white spots in the nail and it can be congenital or acquired.
There are different reasons which cause the leukonychia, like for example, repeated traumatisms at the level of the nail fold, manicures, the use of detergents or the lack of zinc or another nutrients in the body.
The apparent leukonychia shows white spots located in the nail bed. They are detected because the ungular layer is transparent and these spots don't move around towards the free brim of the nail while it grows. It is showed in hepatic cirrhosis, cardiac insufficiency, diabetes and renal insufficiency.
The real leukonychia is located in the nail and it disappears while the nail grows. It is caused by a nail matrix dysfunction.
There are five kinds of real leukonychias:
Dotted leukonychia: as its name indicates, appear small spots disseminated in the ungular layer. It is frequent during the childhood and also by repetitive traumatisms.
Total leukonychia: the great part of the nail shows a whitish appearance. It is unusual and it is detected in birth or in early ages.
Striated leukonychia: its main features are parallel and transverse bands of whitish color. The causes are traumatic, manicures and chemotherapyc treatments.
Partial leukonychia: it affects partially the ungular surface.
Longitudinal leukonychia: it appears in longitudinal lines and they are usually caused by small tumors.
The leukonychia it is diagnosed by watching, anamnesis and specifying of the decedent pathologies. The treatment can vary depending on the reasons which cause the leukonychia.