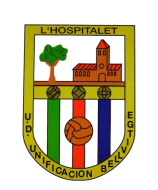 THE INSTITUT CATALÀ DEL PEU HAS SIGNED AN AGREEMENT WITH UD BELLVITGE UNIFICATION (SECOND DIVISION B).
Institut Català del Peu has signed an agreement with UD Bellvitge Unification  (Second Division B), to treat the podiatric issues of the team, focusing on sport ergonomics and the prevention of possible injuries.
Congratulations to all the football players. We wish them a lot of success in the future competitions!