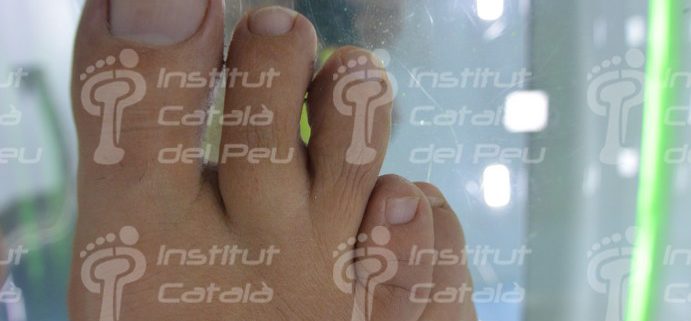 THE BRACHYMETATARSIA
The main feature of the brachymetatarsia or also called hypoplastic metatarsus is the abnormal shortening of one or several metatarsi. Visually, you can watch one or several toes shorter than the others and it can show a raising with respect to the other toes.
It is usually more frequent in women than in men and their causes may be congenital, related to some syndromes like the Apert's syndrome, Turner's syndrome, Aarskog-Scott syndrome or also may be acquired (traumatic in the age of puberty or iatrogenic).
The cause is basically genetic because of the premature closing of the bone development nucleus.
It affects mainly the fourth toe and in a bilateral way to both feet. When the shortening affects more than one toe is called brachymetapody.
Basically, the brachymetatarsia has three problems:
The appearance to some people will be conditional to some kind of activity or the use of sandals in summer because of the anguish to social rejection.
Metatarsalgias, due to the abnormal shortening of a metatarsal with respect to the others, may cause a burden transfer to the rest of metatarsals, causing in this way plantar pain because of resting wrongly.
Pain in the dorsum of the affected toe due to the pressure against the shoe by its higher position with respect to the rest of the digits.
In brachymetatarsias the conservative treatments are the most usual. These treatments consist of anatomical shoes and orthopedic templates with the purpose of rebalancing the plantar burdens and the biomechanics of the foot.
The surgical treatment can be practiced to young patients which aim is to give back the suitable length to the metatarsal through an osseous self-graft or an artificial self-graft. Other surgical techniques use external or internal fixations which elongate the bone progressively in a period of time.