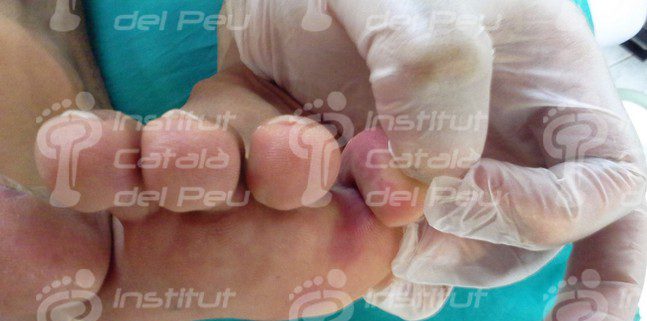 DIFFERENCE BETWEEN THE HEMANGIOMA PLANUM AND THE PORT-WINE STAIN.
It is considered to any benign tumor formed mainly by blood vessels (hemangioma) or by lymph vessels (lymphangioma).
The hemangioma is a nevus or cutaneous pigmentation which is not hereditary and it appears since birth where the dilation of blood vessels causes a staining in the skin between purplish or reddish.
The port-wine stain is a vascular malformation and wrongly called planum hemangioma. This stain is also called nevus flammeus and it appears approximately three out of one thousand people. Unlike the rest of hemangiomas planum, the older you get, the more reddish becomes the tonality of the skin. The port-wine stains can be congenital or acquired and they are located in any part of the body, like for instance: face, neck, scalp and extremities. These are painless stains and they are caused by the lack or shortage of nerve fiber  in a peculiar zone of the skin. This lack of nerve fiber entails a dilation of the small blood vessels, increasing in this way the blood flow and causing the appearance of stains under the skin.
In early ages, the hemangiomas are usually plane as its name indicates, and they have a pinkish pigmentation.
During growth, the pink color may change into a dark red or purplish tonality, as well as a thicker and more bulging cutaneous texture.
The hemangioma is diagnosed through a physical exploration of the skin, although, in some cases, a cutaneous biopsy may be required. Depending on its location  and symptoms, it may require a radiologic examination or a magnetic resonance of the skull, as well as an examination of the ocular pressure.
There are several treatments like the cryotherapy, surgery and lasertherapy, as some examples. The lasertherapy is more effective in hemangiomas located in the face and mainly among young people.
The lasertherapy involves eliminating small cutaneous capillaries without causing any injury to the skin.
The use of the laser treatment in an early age offers a better result like its application does in the first five sessions.
Stains more than 40 cm2  don't usually improve in the same way than injuries with a peripheral anatomical location. The thickness of the skin reduces the possibilities of success in the treatment.
The most usual problems of the hemangioma are of social or self-esteem kind. The hemangioma located in the eyelids may be related with the appearance of the glaucoma.
To sum up, there is a difference between the hemangioma and the vascular malformations. Hemangiomas have a tumoral origin of high impact and swift growth from a precursor lesion. Its appearance is not frequent in birth and its development is due to an hyperplasia of endothelial cells and they back down with the age.
However, the vascular malformations appear during birth because of a disorder in the vascular embryogenesis.
It has a slow growth and don't disappear as a result of an ectasia and vessels hypertrophia.