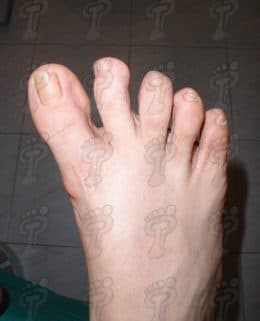 HALLUX VARUS: THE OPPOSITE MORPHOLOGY OF THE HALLUX VALGUS
The Hallux Varus is a deformity of the first radius which has a deviation of the great toe towards a medial or tibial direction. Visually, it is the antithesis of hallux valgus or bunion. We can see a supination of the great toe and a negative metatarsophalangeal angle. This anomaly has several causes:
Functional: as a compensatory position of the toe against other deformities of the front part of the foot or the tibia.
Genetic: like polydactyly, polysyndactyly, metatarsus varus and an inadequate or shorter first radius. It is usually unilateral.
Iatrogenic: as an adverse result of some surgeries (like the Mc Bride technique or the extirpation of sesamoids).
Traumatisms.
Rheumatic diseases.
Like Hallux Valgus, it is a very hard foot to suit in shoes. It can cause aches and pains due to the compression of toe against the shoe and also it can cause onychocryptosis  (ingrown nail) in the tibial or medial canal of toe.
The treatment of hallux varus depends on the causes and the degree of problems which may cause to the patient. The conservative treatments are focused on corrective orthesis and bandages at early age. In those people with nonsymptomatic hallux varus, with flexibility, some movement and with a soft or moderate deviation, we can put on plantar supports to keep the burdens which is submitted the first radius.
In those cases with a severe symptomatology that will need a surgical treatment as a first choice, we will value the mobility as well as the condition of metatarsophalangeal joints and the sesamoids.