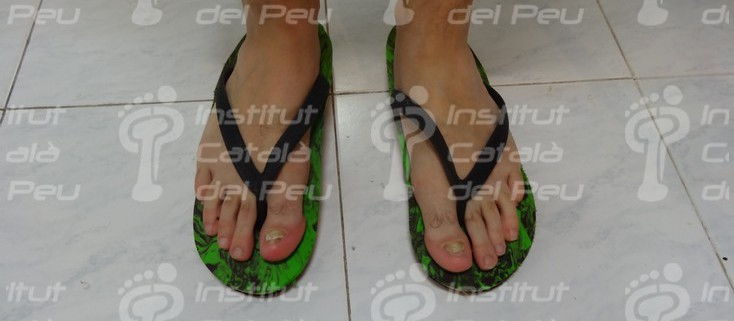 Basic proposals in the making of our made-to-measure shoes
In this issue we would like to show our experience and methodology in the making of made-to-measure shoes. When I talk about this subject with other colleagues, I always like to state that the concept we are talking about is not "The made-to-measure shoe" but the "Therapeutic shoe".
The field of the therapeutic shoe takes in the making of a personalized shoe for certain patients who have serious problems in the feet (traumatisms, genetic anomalies, diabetics, etc.) without disputing with the design or current aesthetics. It is of vital importance when we make a shoe according to certain features of the patient, the fact that it is impossible to make it in an industrial way. It is a pity that the teaching of this therapeutic treatment has been lost on the part of the public health professions. Nowadays, there are very few professionals in the country who know how to make a  made-to-measure shoe, being postponed its making under the responsibility of good craftsmen.
During these last years one of our issues of research has been the analysis of shoes about the biomechanics of foot by surveys of the several effects which cause in people walking barefoot or with shoes.
The basic aim of a therapeutic shoe is to check the movements of the foot as well as the protection of the several zones which have contact with the shoe. Thus, it is an indispensable condition a previous biomechanics examination very exhaustive.
The materials used in the lining, sole and instep are determining to achieve quality levels in the final result. When we make a therapeutic shoe, we have to take into account the flexibility of the materials, the making of the shoe, as well as the use of a lining that isolates and absorbs the humidity of the foot.
There are several ways to make a mold of foot by which we are going to work, the most modern is through the use of the 3D Scanner and the making of a positive mold in resin. This mold must be made in the position that the professional is interested because the last that we will get will not be suitable for all kind of shoes.
From here we will cut the different pieces of the lining and the leather as a result of the pattern and always according to the design of the shoe we want to assemble. Once we have sewed the pieces, they have to be assembled on the mold of the patient putting suitable reinforcement materials. Once the construction of the therapeutic shoe is made, we choose the type of sole most suitable to the pathology of the patient and finally, when the shoe is made we add a personalized orthopedic insole inside the shoe. This orthopedic insole will have the corrective of palliative features which the case requires.