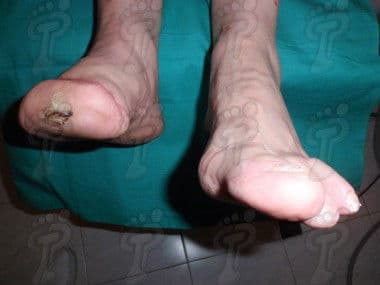 The transmetatarsal amputation is one of the most surgical resections in foot. This kind of amputations are usually made as a consequence of serious infections –very frequent in diabetic patients-, vascular alterations and traumatisms from several causes. Sometimes, a transmetatarsal amputation is better than to keep rigid or deformed toes which may alter the correct wander, cause pain or make difficult the prosthesis adaptation to the amputee foot. This resection technique has less problems than other techniques.
The transmetatarsal amputation allows the foot propulsion with respect to the floor in the takeoff dynamic stage. So, in this way we mitigate the lack of toes.
The aim of the prosthesis is to fill the amputee zone of the front part of the foot avoiding the acquired echinism as well as the supination of the back part of the foot. The talalgias and plantar traumatisms are other factors to value when we make this prosthesis. To make a prosthesis it is necessary to make a mold of the foot because in these patients it is very important the correct adaptation of the prosthesis into the stump.
The design of the prosthesis is made with light technical materials and with a half stiff spring at a longitudinal level to let the propulsion of foot. This spring must be made with a material that can withstand the important strengths of a cut made by metal shears which is subjected in every step. With this kind of prosthesis we get a protection of the riskiest damage zones, a bigger performance of the remaining foot and a biomechanics functional the most natural as possible.